Selecting a Cloud Communications Provider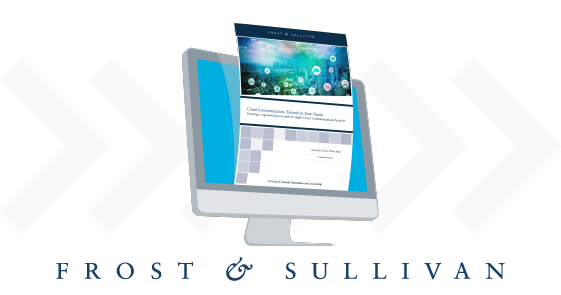 Cloud Communications Tailored to Your Needs. A Frost & Sullivan white paper.
Rapid technology evolution and economic globalization are intensifying competition.
Businesses must find operational efficiencies and innovative ways to create customer value. Frost & Sullivan research finds that many companies worldwide are embarking on digital transformation projects aimed to enhance employee productivity and improve customer engagement. Forward-thinking organizations are leveraging advanced technologies such as Internet protocol (IP) telephony, unified communications and collaboration (UCC), cloud, fixed-mobile convergence (FMC), Big Data, and the Internet of Things (IoT) to gain a competitive advantage.
Find out how you can:
Streamline Operations
Cloud communications services significantly reduce upfront equipment, software and implementation costs, which greatly appeals to budget-conscious businesses.
Enhance Business Agility
Frost & Sullivan research reveals that 68% of businesses are moving to cloud-based communications to more quickly and cost-effectively access advanced capabilities.
Improve Business Continuity
Unlike most on-premises UCC platforms that require redundant hardware, our software is configured with a simple active/passive model to ensure business continuity.