by Ryan Alleman Thursday, July 6th, 2017.
"The Cloud." This ubiquitous phrase has a singular tone to it—a tone that is becoming increasingly antiquated. Tomorrow's cloud is pluralist. That means multi-cloud, multi-vendor, and multi-location.
For Jive Partners, it's in an ideal position to capitalize on a paradigm shift. Gartner executives predict that, by 2019, 70 percent of organizations will have adopted a multi-cloud model. The research suggests that the traditional in-house datacenter approach may be on borrowed time, as IT teams move more of their workload to the cloud and CIOs demand nimble, responsive business processes.
What are the reasons driving the multi-cloud, multi-vendor strategy? How can Jive help you position such a strategy to win more business from clients and help them achieve their desired outcomes?
First, let's look at the business logic behind the sea of change. Understanding this shift will be of great value as you move up-market and target larger opportunities.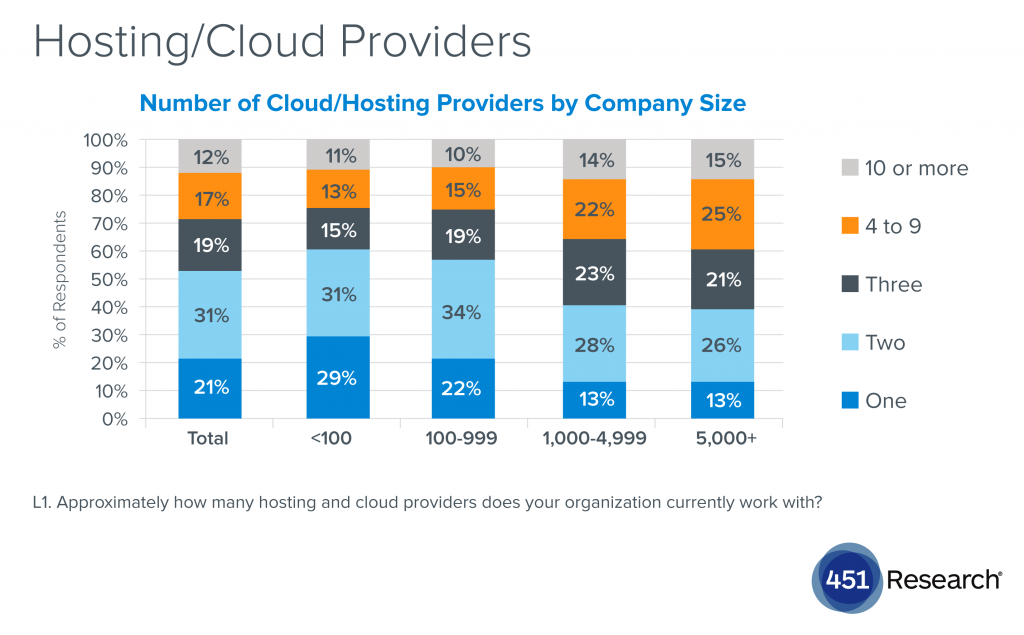 Stay Flexible
With a multi-cloud strategy in place, you can help your clients leverage vendors against each other in order to achieve optimal pricing. In addition, cloud providers like Jive offer no-term service options, meaning increased flexibility and reduced contract "lock-in."
Studies by 451 Research and Microsoft provide some intriguing insights into multi-cloud adoption among SME and enterprise companies. Essentially, as a company's size increases, so too does the number of cloud vendors with which it does business.
An example: only 13 percent of companies with less than 100 employees use four to nine cloud vendors. If we look at companies with 1,000 to 5,000 staff, that figure climbs to 22 percent. At the top tier of the survey, among companies with over 5,000 employees, fully one-quarter deal with four to nine cloud vendors.
This can be a key leverage point for Partners as you target larger deals.
Lighten the Load
The multi-cloud approach allows departments to select the optimal business solutions for their teams. As an example, Customer Service might select a call management and analytics suite such as Jive Contact Center as their product of choice. IT staff then implement the product suites—rather than building them—with typically minimal resource expenditure.
Contrast the more traditional structure, where a company's on-site IT environment and infrastructure would often narrow or dictate service selection. Under that "siloed" model, IT teams were responsible for creating, managing, and securing their own custom-built ecosystems. The result was heavier requirements for in-house skill sets, tools, software, and infrastructure.
A multi-cloud strategy is considerably more lean, allowing your customers' IT teams to focus on integrating and managing environments, rather than building them from scratch.
Scale Speedily and Evenly
Scalability is another major factor behind the shift. Companies adopting multi-cloud can ramp up on short order compared to their competitors. Cloud vendors like Jive are able to quickly create new service instances and add-ons for your clients. With support from project management and sales engineering, you can deliver your clients smooth deployments, with minimal lift from in-house teams.
However, clients need executive buy-in to adopt cloud methodologies across the vendor spectrum. Having only one or two vendors that offer scalability means business operations across departments may evolve at dramatically different rates – with the result being growing pains. Jive has developed a checklist (available here) that will help you make the business case to your clients' executive teams.
Reduce the Risks
As you develop multi-cloud plans for your clients, be sure to highlight the risk-reduction benefits. Cloud communications providers like Jive offer built-in redundancy using multiple datacenters, all geographically separated. In a high-risk scenario – such as extreme weather events – your clients can rest assured that they're insulated from local disruptions.
As you look at other applications, such as data storage, ask each prospective cloud vendor to provide an outline of datacenter structure and locations, then work the information into your plan. For applications that demand enhanced redundancy, you might consider designating a primary and secondary provider, with data synchronization between them. Each provider will in turn offer layered redundancy within their own networks.
Prospective customers—particularly those in the SME to enterprise space—will more readily grasp and embrace your multi-cloud proposal when they understand how it bolsters reliability and minimizes risk.
Jive has prepared a checklist to help you make the business case for a multi-cloud strategy – you can download it below.