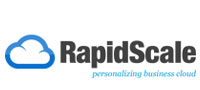 RapidScale was founded in 2008 by a team of technology professionals. We are headquartered in Irvine, CA and have employees throughout the US in numerous roles. As an industry leading cloud company, our cloud computing solutions enable customers to simplify IT operations. We pride ourselves in moving computing into the next generation while providing outstanding service.
---
CloudDesktop (Desktop as a Service)
RapidScale's CloudDesktop (DaaS) solution allows organizations to move all their applications and desktop to the cloud. They are able to access their virtual desktop environment through an internet connection from any device, anywhere in the world.
CloudMail (Hosted Microsoft Exchange)
CloudMail is RapidScale's Hosted Exchange offering. CloudMail is industry leading in the delivery, design, and support of Microsoft Exchange. Our Service Level Agreement on CloudMail is 100% uptime and all support is U.S. based.
CloudServer (Infrastructure as a Service)
CloudServer (IaaS) eliminates the need to spend capital on upgrading physical hardware and move into an Operating Expense (OpEx) model. All hardware is virtualized and delivered on a per month subscription rate. The consumer does not manage or control the underlying cloud physical infrastructure but has control over operating systems, storage, and applications.
CloudRecovery (Disaster Recovery as a Service)
CloudRecovery (DRaaS) provides businesses with cost-effective disaster recovery services by offering critical storage based replication and recovery within a managed environment in the cloud. RapidScale's data centers are Tier 3, Class 1 providing enterprise-level security.
CloudOffice (VDI SMB Bundle)
CloudOffice is a secure and robust solution set combining RapidScale's four core products and services: CloudServer, CloudDesktop, CloudRecovery, and CloudMail. It's the perfect solution for SMBs who have little or no IT support since RapidScale manages everything for CloudOffice.
---
Who is a good fit?
CloudDesktop
Companies with 100+ Users
Companies who deal with refreshing desktops, laptops, or tablets
Companies who want to move to a BYOD (Bring Your Own Device) model
Companies that have remote employees
Companies that have employees who travel
Companies who need to have the ability to add or remove users quickly
CloudServer
Any customer running applications on physical or virtual servers
Companies that are rapidly growing or scaling
Companies that want to take advantage of enterprise level hardware and security
Companies with limited capital
Companies with compliance needs
Companies with disaster recovery needs
CloudOffice
Companies with 10-100 Users
Companies with limited IT resources
New Companies looking to have an all-in-one solution for their IT needs
Companies looking to move everything to the cloud
Companies who want to BYOD (Bring Your Own Device)
Companies that have remote employees
CloudMail
Companies that are running on POP3/IMAP
Companies that need to upgrade their Exchange Server
Companies that currently run their Exchange servers in-house
Companies on Exchange 2003: Microsoft is no longer supporting this
Companies that rely heavily on e-mail being up 24/7/365
Companies that need to scale up or down quickly
CloudRecovery
Companies that still run physical servers on-site
Companies that live in areas affected by natural disasters
Companies that have a very low RTO and RPO
Companies that are heavily reliant on data
Companies who can't afford to be down without their data
Companies that need to have quick access to their data in the event of a disaster