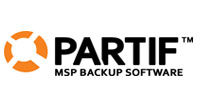 Cloud Backup and Recovery Solution featuring: Deep Deduplication; Scalability (multi-terabyte data sets and storage environments of PB+); Plugins including MS SQL, SharePoint, Exchange, VMWare, Hyper-V, Network Shares, Oracle; All-platform solution – Window/Linux/Mac OS; Multiple Recovery Locations; "All Inclusive" model or available as a "Software Only" model; Deep Branding to keep your Company's name in the mind of your customers.
Partif is a cloud backup & recovery platform exclusively for Channel Partners. Cloud backup & recovery is an area that is exploding in popularity but there are relatively few solutions that can handle the scale, reliability and flexibility required to be successful as an MSP.
Partif is proud to be closely partnered with IASO Backup of the Netherlands. Through this partnership, Partif delivers the best-in-class cloud backup technology platform that enables MSPs to be successful in even the most challenging of environments. Partif also teaches partners how price their service to win the business, how to maintain REAL margins greater than 300% and how to raise awareness to the the hidden costs associated with delivering cloud backup as a service.