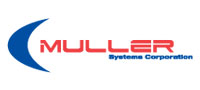 Application hosting; Infrastructure hosting; Managed Web hosting (Windows and Linux); Colocation; Managed Virtual Private Servers (VPS); Help Desk Services; Offsite backup; Managed Desktops, Servers and Infrastructure.
Muller Systems brings over 23 years in the IT Industry. We are a full service IT shop which specializes in Managed Services and Hosting, our services include our own fully Managed Data Center on-premise. Both of these services have allowed us to work with companies in the infancy stage or years into business. Muller still provides the personal touch with our services, where our customers and partners can call us by our first name and not a number.
Custom software development and global Point-Of-Sale (POS) software & hardware solutions are offered through MullerSoft, a division of Muller Systems.
Our Data Center has the following specifications:
Redundant Internet Fiber connections from different suppliers
Security system outside and inside of Center
Backup power is provided by a Natural Gas Generator
HVAC cooling with temperature monitoring