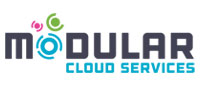 Cloud-based Data Protection; Data Protection As a Service (DPaaS); Assured Information Recovery (AiR); Datacenter Efficiency and more.
Modular Cloud Services Inc. serves the growing and changing business continuity and disaster recovery services market. Modular provides a comprehensive range of business recovery services and solutions to this market, based initially and partially on the existing Data Protection as a Service offering powered by Asigra and the Readiness as a Service (Business Continuity Planning) offering from Readysmith Advisers Ltd. These are hosted and powered by the Cloud Dynamics Inc. innovative and patented cloud platform technologies. They can also be deployed within an existing channel partners facilities which can be enhanced and optimized through the deployment of the Cloud Dynamics Cloud Data Center platform.
The CloudDC is a programmatic converged infrastructure platform, with a cloud operating system that provides a management layer that speeds the adoption of the cloud or enterprise infrastructure modernization. It integrates best-in-class components into modular, open data-center architecture, increasing efficiency, reliability, security while reducing risk and cost. CloudDC uses best of class, pre-test, firewall, network, servers, switching and storage components, integrating them into an adaptive architecture, enabling the cloud.
With the addition of other services, such as On Demand Cloud Computing, Cloud Storage, Emergency Notification, Cloud VDI, and Cloud PBX, Modular will handle all of the comprehensive recovery and availability needs of its targeted medium sized to small enterprise business market through a network of carefully selected and trained channel partners. The initial focus will cover the North American marketplace.