3 Keys to Growing Your Company Through Customer Support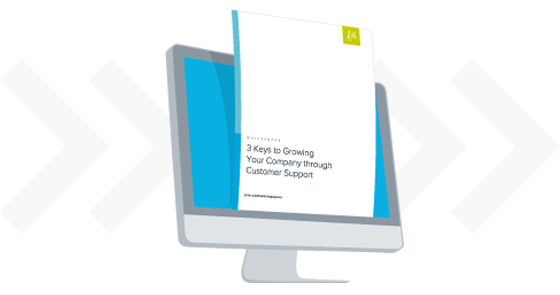 Strengthen your customer support.
An Overlooked, Affordable Strategy for Company Growth
Whether through marketing campaigns, advanced advertising, or business deals, the main goal of any company is to grow by gaining new customers and retaining existing ones. Many of these strategies can be expensive and do not utilize a company's best marketing and advertising tools—customers. Frost and Sullivan and other have applauded Jive Communications, Inc.'s successful strategy to promote overall company growth by strengthening their customer support. Jive's support team has maintained a customer retention rate of 98 percent, and this whitepaper will help your support team learn and implement the principles driving Jive's successful customer support and overall growth.
Manage Channels
Learn how to navigate the growing use of social media channels.
Create A Positive Culture
Learn the role scripts should or shouldn't play to empower a culture of helpfulness.
Measure Success
Learn tangible ways to measure your customer service team's success.